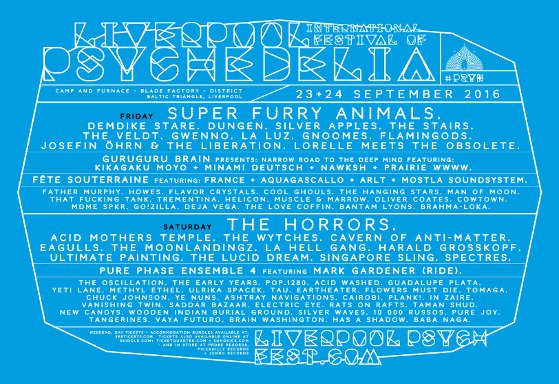 Pure Phase Ensemble 4 ft. Mark Gardener // Liverpool International Festival of Psychedelia

| | |
| --- | --- |
| | 24 September 2016 |
| | 20:00 |
| | Liverpool |
| | Camp and Furnace |
Tickets
The international shoegaze collective Pure Phase Ensemble, makes a very special appearance at this year's Liverpool International Festival of Psychedelia. On 24 September 2016 we'll have a chance to listen again to Mark Gardener (RIDE), Ray Dickaty (ex-Spiritualized), Jacek Rezner (Wilga), Kamil Hordyniec (Wilga), Michał Pydo (Hatifnats), Michał 'Kostek' Stolc (Cisza nocna) and Karol Schwarz (KSAS) play the material released in 2015 on the seminal album "Live at SpaceFest!".
Created specially for SpaceFest! festival of shoegaze, space-rock and psychedelia in Gdansk, the 4th edition of the project – Pure Phase Ensemble 4 feat. Mark Gardener – turned out to be especially successful. The live album received numerous enthusiastic reviews (over 70) and got a lot of airplay worldwide.
Liverpool International Festival of Psychedelia is a pan-continental celebration of audiofuturists, operating at the bleeding edge of today's psychedelic renaissance. For two days each September, Liverpool's former industrial heartland beats once more, to motorik throb and shimmering drone, a kaleidoscopic celebration of our global psychedelic village. The festival was lauded across its first four installments (2012 – 2015) for its unique take on a thoroughly modern psychedelic condition, with The Guardian declaring "Liverpool, the great psychedelic capital of Europe".
for more information go to:
http://www.liverpoolpsychfest.com/
http://www.liverpoolpsychfest.com/bands/pure-phase-ensemble-4/