Today we would like to present the latest album by Pure Phase Ensemble 5, a project featuring Hugo Race along with a number of very talented musicians from Polish alternative groups.
This release is the result of intensive week-long collaboration between these artists surrounding SpaceFest.
Pure Phase Ensemble has previously featured Mark Gardener (Ride), Laetitia Sadier (Stereolab), Ray Dickaty (formerly of Spiritualized), Chris Olley (Six By Seven), Steve Hewitt (formerly of Placebo), and Jaime Harding (Marion).
The album is available digitally on Bandcamp, Soundcloud, Spotify, iTunes, Tidal, Deezer and on CD on the label's website.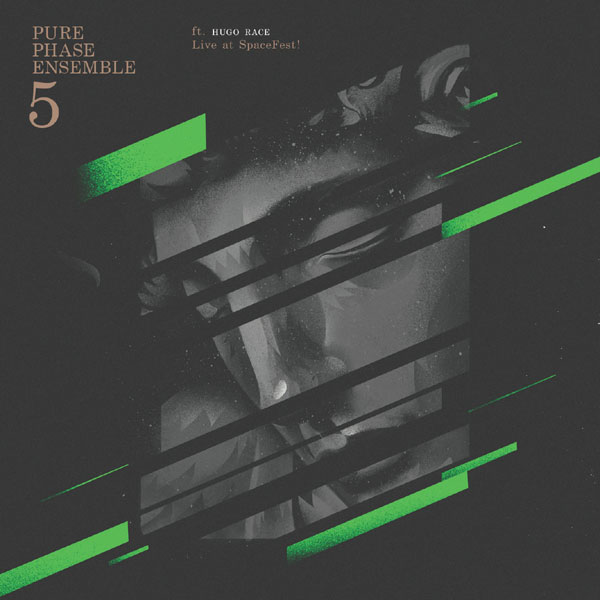 FOR LOVERS OF: Spiritualized, Spacemen3, Hugo Race
GENRES EXPLORED: psychedelic, shoegaze, space-rock
TRACKLIST
1. Phase In 4:04
2. Phase Out 8:00
3. Elektryk*~ 6:41
4. We Would Not Change a Chord~ 9:26
5. Krzyczeć~ 8:23
6. The Chase 5:04
7. One Chord* 10:50
8. Nowy Port 3 A.M. 5:46
9. Blue Steel Rail* 8:34
10. Fly Through the Fire* 9:59
total time:  76:47
CREDITS:
all songs composed by: Pure Phase Ensemble 5
lyrics: *Hugo Race, ~Karol Schwarz
Pure Phase Ensemble 5:
Hugo Race – voc, guitar, synths
Karol Schwarz (KSAS, 7faz) – guitar, voc, phase, el. beats
Adrian Kondratowicz (Ze Velocipedes) – drums, percussion
Przemysław Bartoś (The Fruitcakes) – bass
Paweł Swiernalis (Lord & The Liar) – backing voc, guitar
Mateusz Franczak (Daktari) – saxophone
Marta Tykarska (C4030) – trumpet
Michał Peschke (C4030) – percussion
phase G, phase E by 7faz
recording: Marek Iwanowski
live mix: Kamil Hordyniec
mix, production, mastering: Karol Schwarz
project supervision: Anna Szynwelska
art work: Patryk Hardziej